To enable a sustainable growth and development, Côte d'Ivoire needs to diversify its commercial partners and attract more foreign direct investment. European investors have historically contributed to the development of Côte d'Ivoire and still represent the largest group of investors today.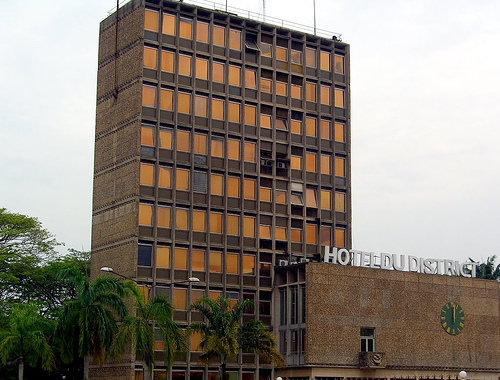 The District of Abidjan: Abidjan is the economic capital of Côte d'Ivoire.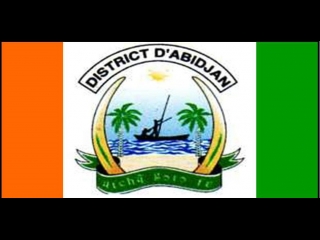 The District of Abidjan is the central administration in charge of the management and development of the city. The District has a portfolio of important projects. The Governor of the District is nominated by the President of the Republic and holds rank of minister. The current Governor is Mr. Beugré Mambé.
Some projects of the District (in PPP)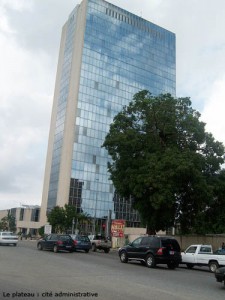 CCIA building
In the heart of the business district of Plateau, the CCIA (Centre de commerce international d'Abidjan) building is a landmark of the Abidjan skyline. A full-scale renovation is projected.
Cost: 13 billion fcfa
This other landmark of Abidjan will be completely renovated. It will house offices and attractions for visitors. Cost: 18 billion fcfa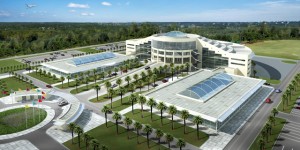 Convention Centre
Building of a modern convention center near the International airport of Port-Bouët. The estimated investment is 22 billion fcfa. The District of Abidjan provides 50 ha of land for the realization of the project.
Prioritized PPP projects
AGRICULTURE
Re‐launch of Maize/Soybean production
Creation of rice farm complexes
Pilot project to support the production, processing and commercialisation of irrigated rice
TRADE
Construction of wholesale markets in Abidjan and 7 regional capitals
Fair parks in Abidjan
COMMUNICATION
Infrastructure and equipment for the introduction of digital terrestrial television
HIGHER EDUCATION
Building of the University of Daloa
Building of the University of Korhogo
Building of the University of Bondoukou + maintenance work
Building of the University of Man + maintenance work
Building of the Universiy of San Pedro + maintenance work
Building of the University Campus in the area of Abidjan
ENVIRONMENT AND SUSTAINABLE DEVELOPMENT
Development of the Banco park
Development of Dalhia Fleur
INDUSTRY
Industrial AGROPARC
Rehabilitation of the industrial areas of Abidjan
Development of new industrial zones in the cities of the hinterland
Development of new industrial areas of Abidjan
RAILWAY INFRASTRUCTURE
Rehabilitation of the Abidjan‐Ouagadougou‐Kaya railway line
PASP – Construction of a SAN PEDRO‐MAN railway line for the iron ore and a mineral platform at the port of SAN PEDRO
PORT INFRASTRUCTURE
PAA ‐ Construction and utilization of a mineral platform at the port of Abidjan
PAA ‐ Creation and utilization of a grain Terminal
PAA ‐Construction and management of a de‐ballasting unit for processing industrial slops and effluents
PASP ‐ Development of a port zone (181 ha)
PASP‐ Development and utilization of a container terminal
ROAD INFRASTRUCTURE
Rehabilitation and maintenance of the Abidjan ‐ Yamoussoukro‐Bouaké
Korhogo‐Ferké‐Ouangolo‐Border trunk road
Rehabilitation and maintenance of the Abidjan‐Abengourou‐Agnibilékrou-Bondoukou‐Bouna‐Border and paving of Bondoukou ‐ Ghana trunk road
Rehabilitation and maintenance of the San‐Pedro‐Man‐Touba ‐ Odienné roadand paving of the Odienné‐Samatiguila‐Mali border trunk road
Rehabilitation and maintenance of the ABIDJAN‐SAN PEDRO‐TABOU coastal trunk road
INTERIOR
Intergrated system of Video‐surveillance of institutions, public areas and buildings (SIVIEEP)
5,000 housing units for the Police, Gendarmerie, FRCI and other public servants
Construction of 60 000 housing units
ELECTRICITY AND HYDROCARBONS
Construction of the Côte d'Ivoire‐Ghana gas pipeline
Construction of a hydrocarbon depot and a petroleum platform in San Pedro
Construction of a petroleum product depot in Ferkéssédougou
Construction of a floating terminal for the storage and re‐gasification of natural gas
Creation of gas filling stations in the districts
Extension and rehabilitation of the electricity transport and distribution network
POST AND INFORMATION TECHNOLOGIES
Project for networking the country with optic fibre
Project of 5,000 cyber centres in the villages
ANIMAL AND FISHERIES RESOURCES
Construction of abattoirs in the Abidjan and Anyama animal markets
HEALTH AND HIV/AIDS CONTROL
Completing, equipping and utilizing the Angré Hospital
Building, equipping and utilizing the nuclear medicine Centre
Rehabilitation, equipping and maintenance of the University Hospital of Yopougon
Rehabilitation, equipping and maintenance of the University Hospital of Cocody
Rehabilitation, equipping and maintenance of the University Hospital of Treichville
Rehabilitation, equipping and maintenance of the University Hospital of Bouaké
Rehabilitation, equipping and maintenance of CHR of Korhogo
Rehabilitation, equipping and maintenance of the Heart Institute of Abidjan
Building/equipping and utilizing the National Radiotherapy and Oncology Centre of Abidjan
SPORTS AND LEISURE
Construction of a Sport/study high school in Bouaké (1,000 students)
TOURISM
Rehabilitation, utilization of the Golf Clubs of the Golf Hotel and the Hôtel Ivoire of Abidjan
Rehabilitation and utilization of the Hôtel Président of Yamoussoukro, of the Golf Club of Yamoussoukro and the Animal park of Abokouamékro
Rehabilitation of 5 former SIETHO hotels and Construction of 25 3‐star hotels in regional capitals
TRANSPORT
Creation of driving licence examination centres (10 centres)
Concession for the financing, developing, building, utilizing and maintening of the new interurban road transport station of Abidjan
Building and utilizing of toll booths (3 bridges)